Childhood is a time for exploration so it's inevitable for kids to get hurt at this stage. While it's distressing for both the child and parents, dental trauma and emergencies are extremely common too. 
In this post, we'll attempt to help you deal with the most common pediatric dental emergencies 
to alleviate some of the stresses you and your child will have to cope with.
How To Deal With Pediatric Dental Emergencies

In the following scenarios, you should immediately call or schedule an emergency pediatric dental care. In the meantime, here are some tips and advice that might help you.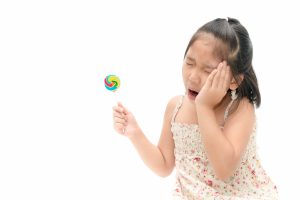 Toothache
Your kids' toothache can be caused by tooth decay, dental fractures, wisdom tooth or tooth trauma. During a toothache attack, you should first cleanse the mouth and tooth of your kid with warm saline water. If there's an impacted food, try to remove it with a clean finger or toothbrush. To reduce the swelling, apply a cold compress to the affected area and contact your emergency dental care provider right after.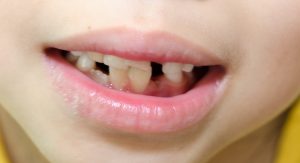 Knocked-Out Tooth

Dentists normally don't do reimplantation of a knocked-out primary tooth as it could damage the tooth bud and affect the growth of the permanent teeth. If your child is around 6 or 7 years of age and has already grown permanent teeth, an emergency dentist can attempt to put them back but this should be done within the hour after the tooth gets knocked out. 
In this case, you should:
Pick the tooth by its crown and rinse it off with clean water.

Place the knocked-out tooth in a saliva or milk-filled container or, if old enough, have your child put it back to its original socket while gently biting it down. 

Contact your emergency pediatric dentist right away to save the tooth.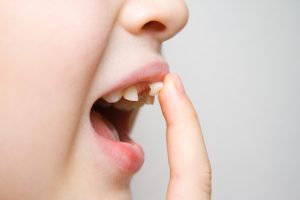 Fractured Crown

If your child sustained minor cracks in the tooth crown, the pediatric dentist should easily be able to fix that with a sealant. But if the tooth pulp is exposed due to a severely fractured crown, pulp treatment may be necessary to reduce the risk of infection.
In this case, you should:
Rinse your child's mouth with warm water and wrap the tooth in a biocompatible material.

Apply a cold compress to the affected area and give your child a pain reliever if necessary.

Call your pediatric dentist right away.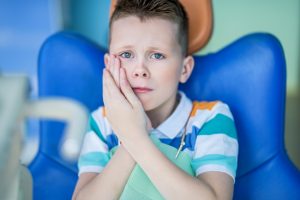 Dental Intrusion

If your child had dental trauma that caused the teeth to go upwards the jawbone, you should contact your dentist immediately. Your pediatric dentist will want to assess how serious the dental trauma is to avoid further damage to the tooth's ligament and socket. In some cases, they may just wait for the tooth to descend naturally, but if it's the former, you should apply relief with a cold compress or pain reliever. Then, run your child to the nearest pediatric dentist.
Need To Take Your Kids To A Pediatric Emergency Dentist?
Do not overlook your child's tooth injury and see a pediatric emergency dentist right away. Take action and call our hotline at (800) 123-1234 to get immediate help from a pediatric dentist. Help your child recover and avoid incurring further tooth damage.